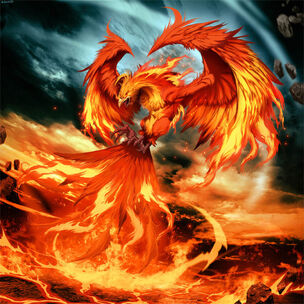 In Greek mythology, a phoenix or phenix (Greek: φοῖνιξ phoinix) is a long-lived bird that is cyclically regenerated or reborn. Associated with the sun, a phoenix obtains new life by arising from the ashes of its predecessor. The phoenix was subsequently adopted as a symbol in Early Christianity. While the phoenix typically dies by fire in most versions of the legend, there are less popular versions of the myth in which the mythical bird dies and simply decomposes before being born again. Herodotus, Lucan, Pliny the Elder, Pope Clement I, Lactantius, Ovid, and Isidore of Seville are among those who have contributed to the retelling and transmission of the phoenix motif.
In the historical record, the phoenix "could symbolize renewal in general as well as the sun, time, the empire, metempsychosis, consecration, resurrection, life in the heavenly Paradise, Christ, Mary, virginity, the exceptional man, and certain aspects of Christian life".
Etymology
The modern English noun phoenix derives from Middle English phenix (before 1150), itself from Old English fēnix (around 750). Old English fēnix was borrowed from Medieval Latin phenix, which is derived from Classical Latin phoenīx. The Classical Latin phoenīx represents Greek φοῖνιξ phoinīx.
In ancient Greece and Rome, the bird, φοῖνιξ, was sometimes associated with the similar-sounding Phoenicia, a kingdom famous for its production of purple dye from conch shells. A late antique etymology offered by the 6th- and 7th-century CE archbishop Isidore of Seville accordingly derives the name of the phoenix from its allegedly purple-red hue. Because the costly purple dye from Phoenicia was associated with the upper classes in antiquity and, later, with royalty, in the medieval period the phoenix was considered "the royal bird".
In spite of these folk etymologies, with the deciphering of the Linear B script in the 20th century, the original Greek φοῖνιξ was decisively shown to be derived from Mycenaean Greek po-ni-ke, itself open to a variety of interpretations.
Community content is available under
CC-BY-SA
unless otherwise noted.